Post by Deb on Jan 22, 2010 10:52:07 GMT -5
They are both
Gregg Shorthand Anniversary Edition
. Just under different names and will be under this board.
Gregg Shorthand Anniversary Functional Method (Anni FM or FM)
Lots of reading before writing shorthand. Lots of writing when you do write. More assignments. Some are more "review" without much, if any, new theory learned. No rules or explanations of why an outline is written a certain way. Transcript (key) given after each assignment until the middle of Book 2. For those using this book,
use the key
and know every outline you read and write. Using this manual you have no excuse (well unless you forget, like I do, in which case the key is there to remind you). Never guess an outline when you have a key. Know the outline. There is a "flip" method where you have one finger on the page you are learning and one in the key that you can flip to as needed, then flip back to the lesson.
Volume one on internet archive, thread here:
greggshorthand.proboards.com/thread/1535/functional-method-anniversary-gregg-shorthand
---
---
---
Gregg Shorthand Anniversary Manual (Anni)
Lots of theory in each lesson. Rules are given for each theory. Explanation of why outlines are written. Unit homework includes a little reading and writing plus some longhand to be written in shorthand. No transcript or key given to student in this pdf manual (see below as the site as the transcript). Short units (assignments).
All the Anniversary lessons are on the Angelfishy site without downloading the PDF if you prefer that. Here is the link to the first unit and then you can find the others through the links on the right side.
gregg.angelfishy.net/anunit01.shtml
--
other reference material, including the manual scanned with a transcript, the link also includes the PDF manual (you may wish to save this link in your favorites along with this group)
After each lesson the bottom lists additional links to more practice as well as the transcription key.
A lot of times, Graded Readings was a supplement to the Anniversary manual and contained many of the same material as the Functional Method.
To find the pdf manual, go here
gregg.angelfishy.net/abannive.shtml
then click on "the manual" in blue in the first paragraph.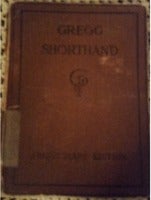 Note: There are other versions of Gregg Shorthand that uses the term Functional Method because it had the same learning & teaching guidelines. Check years to see
which version
it is.